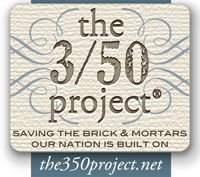 Have you heard about the 3/50 project? I stumbled across this recently on a trip up to Issaquah, WA. We had driven up there for the day, about 200 miles one way, for the sole purpose of eating
Veraci Pizza
at the Redmond Farmers' Market and to see what Issaquah's
Gilman Village
is all about. (I need to go back. Gilman Village is a fantastic little shopping center!)
The 3/50 Project's concept is simple. Think of 3 locally owned shops you would miss if they closed, and support them. The 3/50 suggests spending $50 each month between 3 shops. That's all.
In my opinion, if $50 is too much for your budget, try for $20, or even $10. Just support local business. Period.
Small businesses can register for free on the 3/50 website and download materials to promote the concept.
For more information, check out their website and facebook pages at
www.the350project.net
www.facebook.com/The350Project
For iPhone users, a free 3/50 app helps you find locally owned businesses no matter where you are. To download the app and/or get your business listed, visit
LookLocal
.